Crooked teeth or a misaligned bite can cause pain, tension, and leave you feeling self-conscious.
Orthodontic treatments like braces can correct crooked, crowded, and misaligned teeth, improving the appearance and function of your smile.
NÜVA Smile has multiple New Jersey locations and comprehensive care to align your teeth and give you a beautiful smile.
Orthodontics is a field of dentistry that focuses on the treatment of irregularities such as crooked teeth and jaw misalignment.
Our dentists offer several established orthodontic solutions for patients with crooked, crowded, or misaligned teeth. These include traditional braces, discreet OrthoFX® clear aligners, and FACEBRACES®, which can straighten your smile in as few as 100 days.
Orthodontic treatment offers numerous benefits. While the most obvious benefit is an improved appearance, orthodontic treatment can also prevent oral health issues: patients with straighter teeth can brush and floss more easily, which prevents decay and gum disease from developing.
By aligning your bite, orthodontic treatment can avoid excessive wear and tear on your teeth. It can also ease tension in the jaw so that your bite will function better, and you can avoid or eliminate painful TMJ disorder symptoms.
A New Smile
Is Within Reach
Our dentists help patients of all ages and with all levels of malocclusion achieve stunning new smiles through orthodontics.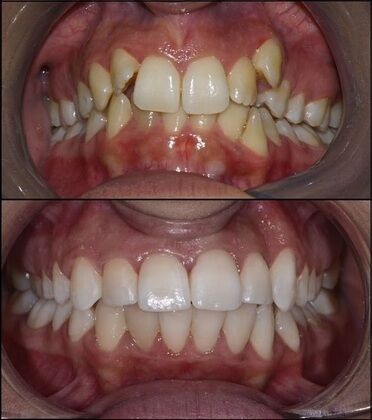 Achieve a Beautifully Straightened Smile
Request a consultation today
Straighter teeth not only enhance the appearance of your smile, but can lead to a lifetime of better oral health. NÜVA Smile has multiple locations across New Jersey, so no matter where you are, a healthy and straight smile is never far away.
Start your journey to a straighter smile by contacting a location near you.
Braces
A Versatile Option
Braces offer effective treatment for all levels of malocclusion, including rotated teeth and overcrowding. We offer both traditional metal braces and FASTBRACES, which use triangular brackets to dramatically accelerate the treatment timeline.
Traditional Braces Treatment Timeline
If you and your orthodontist decide traditional braces are the right orthodontic treatment for you, treatment may look like this:
Have questions about braces treatment?
Find Convenient Care
Thanks to Our Multiple New Jersey Locations
Helping New Jersey Smile
5-Star Reviews
The office is super friendly and the doctor is amazing! This homey office is the right fit for anyone who fears the Dentist.
View on Google
Atmosphere Wonderful, Excellent Medical Attention, Recommendation ⭐⭐⭐⭐⭐
View on Google
Seeking an Alternative to Braces?
Consider OrthoFX Clear Aligners
If noticeable wires and brackets are causing you to avoid orthodontic treatment, NÜVA Smile offers OrthoFX, a clear alternative to traditional braces. OrthoFX is similar to Invisalign®, but requires fewer trips to the orthodontist and can mean faster treatment.
OrthoFX works much like traditional braces by using gentle pressure to slowly shift teeth into proper alignment, but replaces metal brackets and wires with clear, removable trays. Instead of wire adjustments, you will receive new trays as your treatment progresses. These trays are slightly different each time.
Not Sure Which Orthodontic Option Is Right for You?
Everyone has unique needs and goals, and our team at NÜVA Smile wants to ensure that your treatment creates the beautiful smile you've been hoping for. If you aren't sure if traditional braces, FASTBRACES, or clear alternatives like OrthoFX are right for you, call us at the location nearest you or request a free consultation with our dentists and orthodontists today.
Five-Star Reviews From Our Patients
It was a great experience teeth feeling nice a clean and was attended quick
View on Google
While clear aligners like Invisalign and OrthoFX are a great option for many patients, not everyone is a candidate for this orthodontic treatment. You may be a good candidate if you:
Have mild-to-moderate alignment issues
Clear aligners are best for patients with mild-to-moderate orthodontic concerns. If you have severe issues, traditional braces may be best for you.
Can wear the aligners 20 to 22 hours a day
You must be committed to wearing the aligner trays for 20 to 22 hours a day. This will help ensure the best and fastest results possible.
Can maintain the aligner trays
If you suspect you may frequently lose the trays or will fall behind on maintaining them, traditional braces may be best for you.
Clear Aligner Treatment Timeline
Clear aligner treatment has similarities and differences from traditional braces. Here is what your aligner treatment may look like.
"Clear aligners like Invisalign or OrthoFX are a trusted and discreet orthodontic alternative to traditional metal braces."
Do you have questions about clear aligner treatment?
"The best dentist office I've been to! After having bad and traumatic childhood experiences at a different dentist office, naturally I was very nervous on my first appointment. However everyone made me feel so comfortable and welcomed my nerves went away. Very organized office and everyone was super nice."

Nat Medina, 2023
Frequently Asked Questions
About Orthodontics
How long does treatment take?
This varies by patient due to unique orthodontic needs. During your initial consultation, your orthodontist will evaluate your teeth and bite to create a custom treatment plan. On average, traditional braces patients typically have their braces removed within 18-24 months. FASTBRACES treatment is about 100 days on average. OrthoFX takes between six and 18 months, depending on your smile.
Does it hurt?
Traditional braces can be mildly uncomfortable as they are adjusted; orthodontic wax and pain relievers can help. For some patients, FASTBRACES may mean less discomfort. With clear aligners, the series of trays will be fitted during your appointments to ensure they do not rub your gums, but there can be some mild discomfort as your teeth adjust to each new aligner. No matter the treatment, if you experience significant pain or discomfort that cannot be managed, please contact your dentist or orthodontist. We have an answering service available 24/7.
How much does it cost?
The cost varies based on treatment needs and the method of orthodontic treatment you choose. At our practice, the cost of treatment ranges from $2,700-$8,000. Our practice will help file with your dental and medical insurance, saving you time and money. By filing with your medical insurance as well as dental, we can save you even more money. We also accept CareCredit® to help with financing not covered by insurance.
Is there an age limit for orthodontics?
While a majority of our orthodontic patients are children, teens, or young adults, there is no age limit for orthodontic care. It is never too late to correct a misaligned bite or crooked teeth and get the beautiful smile you have always wanted.
Is there an age minimum for clear aligners?
There is no set age minimum, but clear aligners are best for patients who can responsibly wear them and maintain them. Every child is different, and some children are mature enough to properly undergo clear aligner treatment. During a consultation, your orthodontist can discuss your options with you and your child to determine if your child is a candidate for this orthodontic alternative.
I am missing a tooth. Can I still seek orthodontic treatment?
Yes. Missing teeth can cause other teeth to shift and cause problems within the dental arch. Orthodontic treatments like braces can help prevent or treat this problem. We also offer multiple forms of treatment to restore the function and appearance of your smile, such as dental implants and bridges.
Do I have to avoid certain foods during treatment?
Sticky or hard foods like gum, popcorn, raw vegetables, and certain candy can cause problems with metal braces. Sticky foods can pull at the brackets and wires, breaking them loose. It is best to avoid some things while undergoing traditional orthodontic treatment.

Like Invisalign, OrthoFX trays are completely removable. There are no food restrictions when undergoing treatment because you can take them out before eating.
I had braces before but my teeth shifted. Can I undergo orthodontic treatment again?
Yes. Your orthodontist will examine your mouth and determine if there is an issue that caused your misalignment or maybe it was simply because you didn't wear a retainer after braces or Invisalign. Some patients who previously underwent orthodontic treatment simply were not happy with the results. No matter what your concerns, our skilled dentists and orthodontists can help develop a custom treatment plan to fit your needs.
How Do I Clean My Braces or Clear Alternatives?
Proper hygiene is important to maintaining your oral health throughout treatment. Brushing with braces is not difficult. Your normal toothbrush will do most of the work. However, additional tools like a small wire cleaning brush can help get where a toothbrush cannot reach and ensure that you properly clean around the brackets and wires.

With Invisalign or OrthoFX, you will remove the aligner and brush and floss your teeth as normal. The removable trays will require proper cleaning daily. Simply rinse and use a soft bristle brush and mild soap to ensure the trays are clean.
No matter which type of orthodontics you choose, your dentist or orthodontist will go over all the proper cleaning techniques with you to be sure you can maintain your braces or clear aligners.
More Five-Star Reviews From Our Patients
I'm very happy from the receptionist to the doctor. Very accommodating and happy with their service. They even held my hand while I was getting my implants done. I can't wait until I'm done and see final results. Thank you.
View on Google
Great service Dr. Attili was great and the front desk very friendly came here with no appointment and got me attended right away very recommend
View on Google