Are you looking for family-friendly, affordable, expert dentistry in Totowa, NJ?
Look no further than NÜVA Smile and our state-of-the-art Totowa office.
To learn more about how we can care for your oral and overall health, contact us for a free consultation.
Our Totowa office is located off of U.S. 46 West near Union Boulevard and Furler Street. It's easily accessible off of the freeway when traveling west on Route 46. If you are traveling east on 46, you'll need to exit on McBride Avenue and then get back on 46 heading west. Feel free to give us a call if you need help with directions.
There is plenty of free parking available. Our office was recently renovated and is accessible to patients with disabilities.
Seeking a Closer Location?
We've Got Your Best Interests at Heart
Take Advantage of Our Specials
In addition to our free consultations, we offer promotions that give patients a reason to smile. Check out our latest offers:
Our Covid-19 Precautions
Our team takes extra precautions to keep you safe with easy mobile check-ins, medical-grade HEPA filtration, and more:
Request a Free Consultation
Will This Be Your First Visit?

If this is your first visit our dentists will take extra time so they can get to know you. They will conduct a complete exam to understand your unique oral health needs.
But they also want to understand who you are. By getting a clear picture of your lifestyle, cosmetic goals, and overall physical wellness they can better recommend care suited to your needs. This is a great time for you to ask questions too. Our dentists and staff believe education is important to lasting oral health.
Are you ready to get started? Feel free to leave us a message and we'll get back to you.
"It is a very nice place. The people are very kind and professional."

Maria Teresa, 5-Star Google Review
Available for Emergencies
Our dentists are always available to care for you in case of a dental emergency. We have a 24/7 answering service, so you can call us at any time to schedule an appointment as soon as possible.
Start Saving Today
Join Our Loyalty Program
No lengthy waiting periods. No working through insurance companies. You can join our Nüva Solutions Membership Club and start saving today.
Our dental savings program not only includes cleanings, exams, and routine X-rays at no extra cost, but we also offer exclusive discounts on treatment options such as orthodontics and dental implants.
Take a closer look at the care that is included for both children and adults:
Prefer to Fill Out Forms
in Advance?
Take advantage of our online HIPAA-compliant patient portal for our Totowa practice and fill out your forms ahead of time. It's available in Filipino, French, German, Italian, Portuguese, and Spanish.
Discover What's Possible
Our Skilled Dentists Bring Out the Best in Your Smile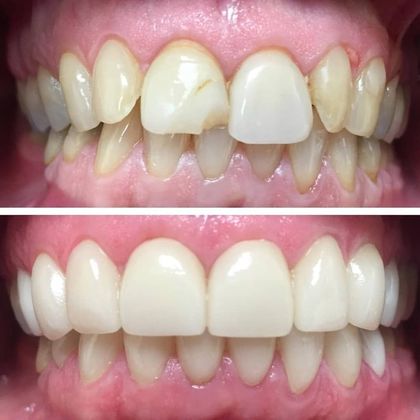 We love bringing smiles to our patients' faces. Are you considering
veneers
to create a beautiful smile that you are happy to share freely? Or are you looking for the security that comes with
implant-supported solutions
to tooth loss? See what's possible in our Smile Gallery.
So that we can best serve the families of Totowa, NJ, we have team members who are able to communicate in Russian, Ukrainian, Arabic, Spanish, and Polish.
Services Available in Totowa, NJ
Apicoectomy
Bruxism Treatment
Cleanings and Exams
Cleft Lip and Palate Surgery
Crown Lengthening
Crystal Clear Aligners®
Damon™ Braces
Dental Sealants
Fluoride Treatments
Frenectomy
Gingivectomy
Jaw Surgery
LANAP
LAPIP
Oral Appliance Therapy
Preprosthetic Surgery
Ridge Augmentation
Snap-On Smile®
Teeth in a Day®
Teeth Whitening
Temporomandibular Joint (TMJ) Disorder Treatment
Wisdom Teeth Removal
"Very nice very clean office, staff amazing, Dr Abousaad excellent knowledgeable kind i feel very very comfortable"

Arif Dungaria, 5-Star Review