Rebuild Your Smile with a Full Mouth Reconstruction
From wear and tear to decay, dental health issues come in many forms. The goal of a full mouth reconstruction is to help you regain the functionality of your smile after suffering from damage, tooth loss, or other oral health problems. The doctors at NÜVA Smile in New Jersey offer the latest dental techniques and unmatched expertise. With our experience and skill, we can design and complete a full mouth reconstruction that will help you regain your confidence and improve the function of your smile.
A Comprehensive Approach
A full mouth reconstruction combines multiple restorative procedures to address a number of oral health issues. Your treatment plan can be designed to treat and repair any concern you face. Combining multiple procedures into one treatment plan can also streamline your costs and recovery for more convenient treatment. A full mouth restoration is intended to deliver a final result that is both functional and visibly pleasing.
If you have suffered from widespread oral damage and decay, a full mouth reconstruction can help you restore the strong, healthy smile you desire.
Candidates for a Full Mouth Reconstruction
More likely than not, if you are suffering from multiple oral health concerns that impact a number of your teeth, you will be a good candidate for a full mouth reconstruction. Good candidates include patients who suffer from more than one condition, such as:
Missing teeth
Tooth decay
Gum disease
Chipped or cracked teeth
Discolored teeth
Bite issues
Misalignment
Degradation of the jaw bone
The number of procedures and extent of treatment you require will depend on your unique oral health needs. Our team will help you understand all of your options to ensure you make an informed decision.
Treatment Process
Your first step is completing an in-depth consultation. During this meeting, you will discuss your specific needs with our dentists to devise a unique treatment strategy. They will complete a comprehensive examination, review the findings, and explain in detail their recommended plan for your treatment.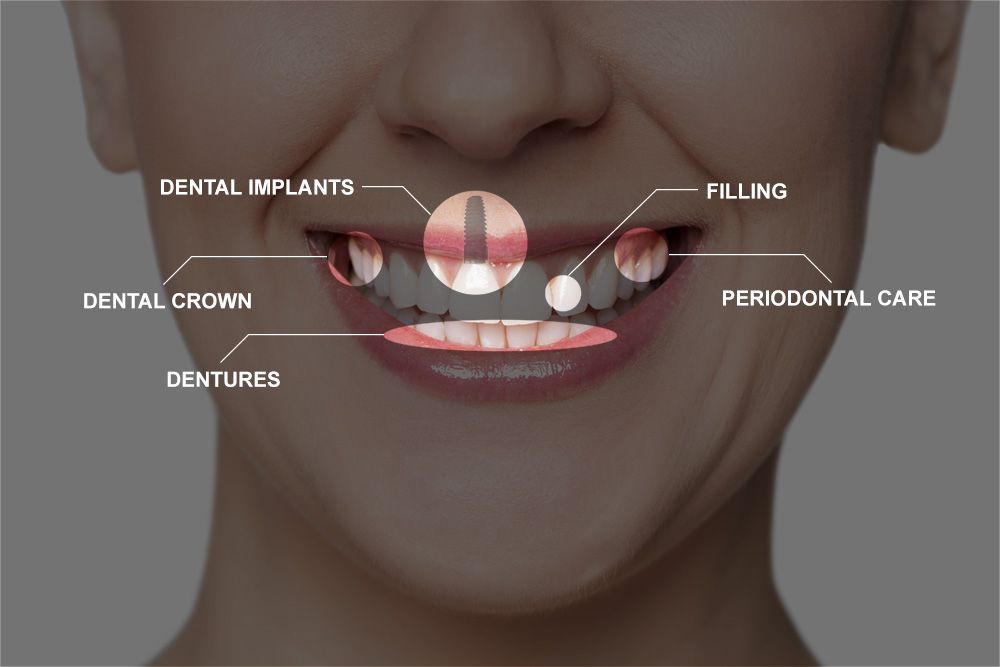 Your treatments will typically be carried out in phases. In some cases, we can perform multiple restorative procedures during one appointment, but you will generally require periods of healing between visits. Dental implants and other surgical treatments will require longer recovery periods, extending your total treatment timeline.
Possible Procedures
A full mouth reconstruction can include a variety of general, restorative, and cosmetic dental treatments, including:
Tooth Extractions: Our team will always try to preserve your natural smile. However, if your tooth is decayed or damaged beyond repair, we can gently extract it and provide a restoration to maintain your bite and restore oral function.
Custom Restorations: Our team can provide lifelike, durable restorations such as dental fillings, crowns, bridges, and dentures.
Dental Implants: Implant posts replace lost tooth roots and can be restored with a custom crown, bridge, or denture for patients suffering from tooth loss.
Oral Surgery: Procedures such as bone grafting and sinus lifts can help you restore oral structure and protect future oral health. These procedures are often performed as preparatory treatment for dental implants.
Periodontal Treatment: We can remove bacteria from the gum line and teeth. Proper periodontal treatment is vital to ensure the success of restorations such as crowns and bridges.
To ensure your comfort through all stages of restorative treatment, we offer multiple sedation options, including nitrous oxide and IV sedation. With sedation, we can often perform multiple procedures in one appointment, shortening your treatment timeline.
Rebuild Your Smile Today
If you have suffered from widespread oral damage and decay, a full mouth reconstruction can help you restore the strong, healthy smile you desire. Send our office a message or call one of our 14 locations to begin rebuilding your smile today.